Aquarius Horoscope 2022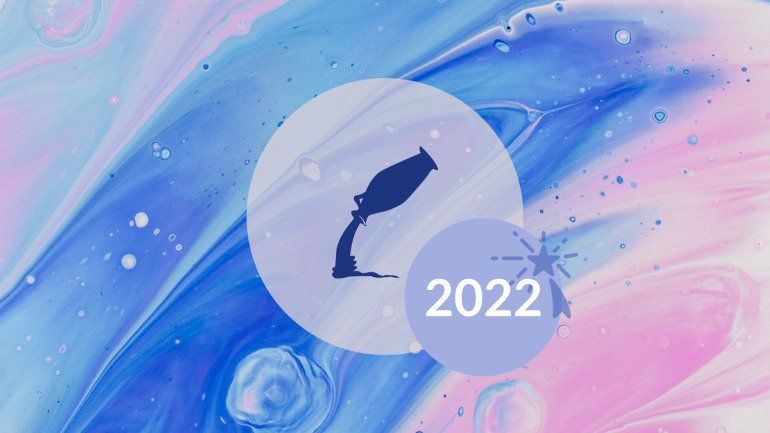 The focus of attention in the Aquarius horoscope for 2022.
A very promising year awaits representatives of the sign. The horoscope for 2022 for Aquarius promises many significant changes.
They will affect personal life and the environment itself, as the focus will be on the 4th house, directly related to real estate, home, loved ones.
Perhaps Aquarius will be able to improve living conditions or successfully invest in the purchase of real estate.
Any action aimed at improving comfort is welcome. This may be a repair, the purchase of new furniture, and other home improvement.
Also in 2022, changes may affect your personal life. The horoscope marks their individuality. Someone will decide to get married, someone will be waiting for replenishment in the family.
Someone, on the contrary, will survive separation: adult children can decide to move and start an independent life. The year is especially good for creating a family.
Changes in the career line are also possible. The Aquarius horoscope for 2022 suggests that in this period they can change their field of activity radically, start doing things that they had not even thought about before and receive both moral and material satisfaction from the process. Stars promise wide prospects in business.
Aquarius Woman Horoscope 2022.
This year will push you to explore new horizons. The horoscope for 2022 for Aquarius promises a woman the fulfillment of even the most daring plans. However, she will need to set a specific goal and work hard.
Representatives of the sign will keenly feel the desire to free themselves from any obligations and gain freedom.
This laudable desire can lead to radical changes in the workplace, but in your personal life you need to be careful with it and not make decisions in a hurry.
Still, you will not be able to fully become independent, since Saturn has a special influence on Aquarius.
This planet appreciates an orderly rhythm and when trying to break it, it can react negatively, which will be expressed in the loss of a job or a decrease in salary.
The horoscope for 2022 offers an Aquarius woman to compensate for a sense of spiritual freedom with territorial exploration. The sign will feel a propensity to travel, which should not be limited.
In 2022, Aquarius is expected to travel, both for business and personal reasons. In spring, the trips will be especially successful, as they can contribute to the organization of personal life or the development of business ties.
In summer, Aquarius can suddenly get tired of the current situation in a relationship and radically reconsider their view of a partner, marriage itself, and even the process of romantic courtship itself.
You will be confident in yourself, which will make you more attractive in the eyes of the opposite sex. The horoscope says that Aquarius will easily overcome any obstacles, even if it means taking risks.
The end of the year will be associated with active communication. You will be able to improve the working situation with the help of society. Help can come from a variety of sources, ranging from relatives to friends and acquaintances who will put you in touch with useful people.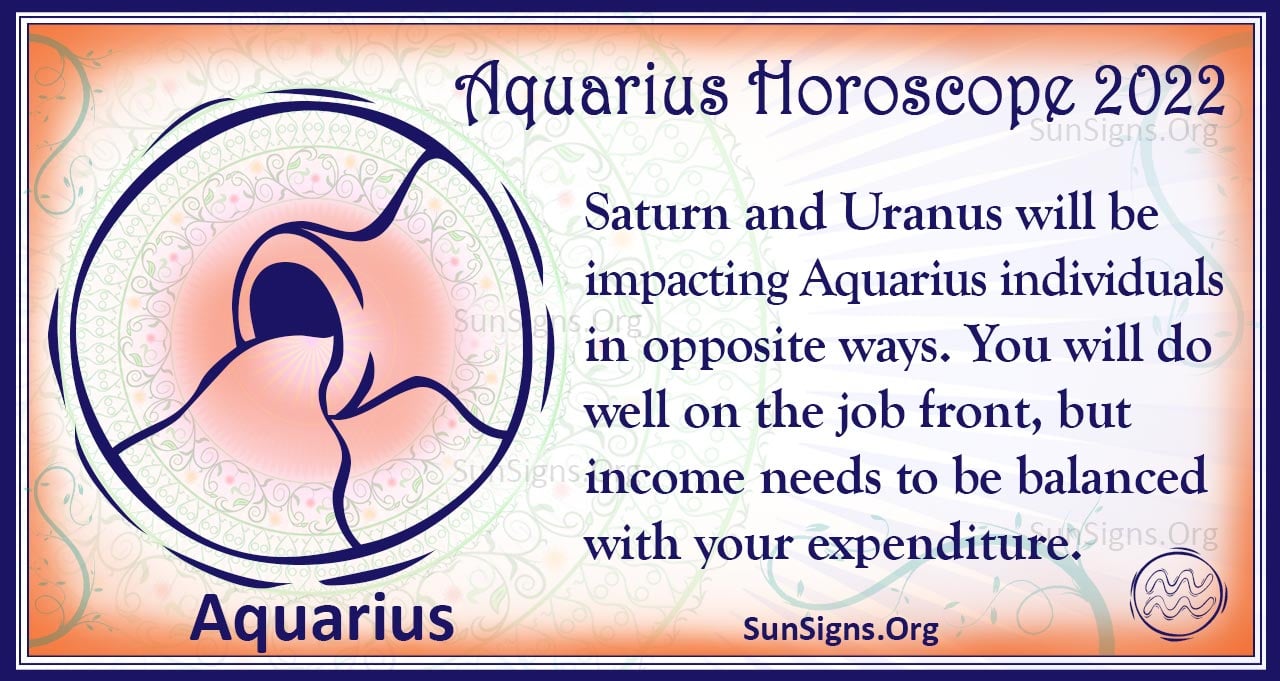 Aquarius Man Horoscope 2022.
Men will largely owe their luck to charisma. The horoscope for 2022 for Aquarius promises a man a high probability of getting a promotion up the career ladder.
The period from the beginning to the end of spring will be especially successful. At this time, the sign will have the opportunity to expand business ties, which will have a beneficial effect on the career.
The horoscope recommends being more attentive to incoming offers and not ignoring them, since even the most unexpected ones can turn out to be very promising.
Opportunities open up in front of Aquarius, which may even be connected with other regions or with foreign countries.
Planets in 2022 patronize any undertakings of Aquarius. You can try to realize hidden talents, get additional education, find a new unusual hobby.
The Aquarius horoscope for 2022 recommends that a man forget about embarrassment and try to present his virtues in the most advantageous way. An original approach to typical situations will help you successfully cope with work responsibilities. In autumn, the circle of communication of the sign will expand even more. New and interesting people will appear in it.
Aquarius Love Horoscope 2022.
The first two months of the New Year 2022, single Aquarians can hardly count on positive changes in love relationships. The Aquarius 2022 horoscope predicts that you may have a secret romance in February.
The reasons for hiding it may be different. It can be a married person, a colleague. But do not count on the fact that this person will linger around you for a long time.
Those Aquarians who have a partner can change their point of view, worldviews about their relationship. Perhaps you will find out some information that will not please you too much.
March 2022 is a good period for dating. If you want to impress someone, this month is favorable for a change in appearance.
You will be popular with the opposite sex. In the first decade of May, try to be in public more and communicate in order to be in sight. Otherwise, the month is not suitable for long-term dating.
In April, the focus is already shifting to money. This does not mean that love will no longer be important. It's just that you will already be more practical in dating and relationships in general.
For those who are in a relationship during this period, the role of tactile contacts, enjoyment of material things, delicious food, beautiful clothes increases. Treat each other with gifts.
The 3rd decade of June and the 2nd decade of July is a great time for Aquarius for love, dates, vacations, holidays. The 3rd decade of August is also suitable for this. Do not waste this time, you will get a lot of positive emotions.
The rest of the time for serious acquaintances is not so favorable. But life doesn't stop there. This is a good time to get over the mistakes in a relationship, especially November and December 2022.
Aquarius Career Horoscope 2022.
The stars promise support in the first half of the year. The Aquarius horoscope for 2022 suggests focusing on goals. If you want to find a more promising or well-paid job, this is the time to do it.
You will be sociable, get along with people well and make a favorable impression at the interview. The period is good for expanding business ties, making deals, signing contracts.
Starting from the end of the last winter month and ending with the end of spring, you can actively develop your business. The horoscope promises that this time is suitable for opening branches of the main company in other regions.
Expanding the sales market, reorganizing production is possible. Various fields of activity will be profitable, but the sectors related to high technologies should become the most successful.
The Aquarius horoscope for 2022 promises good results. Profit can be quite significant, especially if you choose a competent advertising campaign.
No less success is promised for people engaged in creativity. Tutors, teachers of foreign languages are in demand. This should be taken into account when choosing an educational institution if you plan to receive higher education.
The horoscope recommends paying increased attention to your expenses. Neptune influences budgeting, saving and spending for you. You should refrain from empty purchases, plan expenses in accordance with income and mandatory expenses.
Paper records contribute to competent planning and clearly demonstrate the ratio of income and expenses. This will help accumulate the desired amount required for the implementation of a specific goal.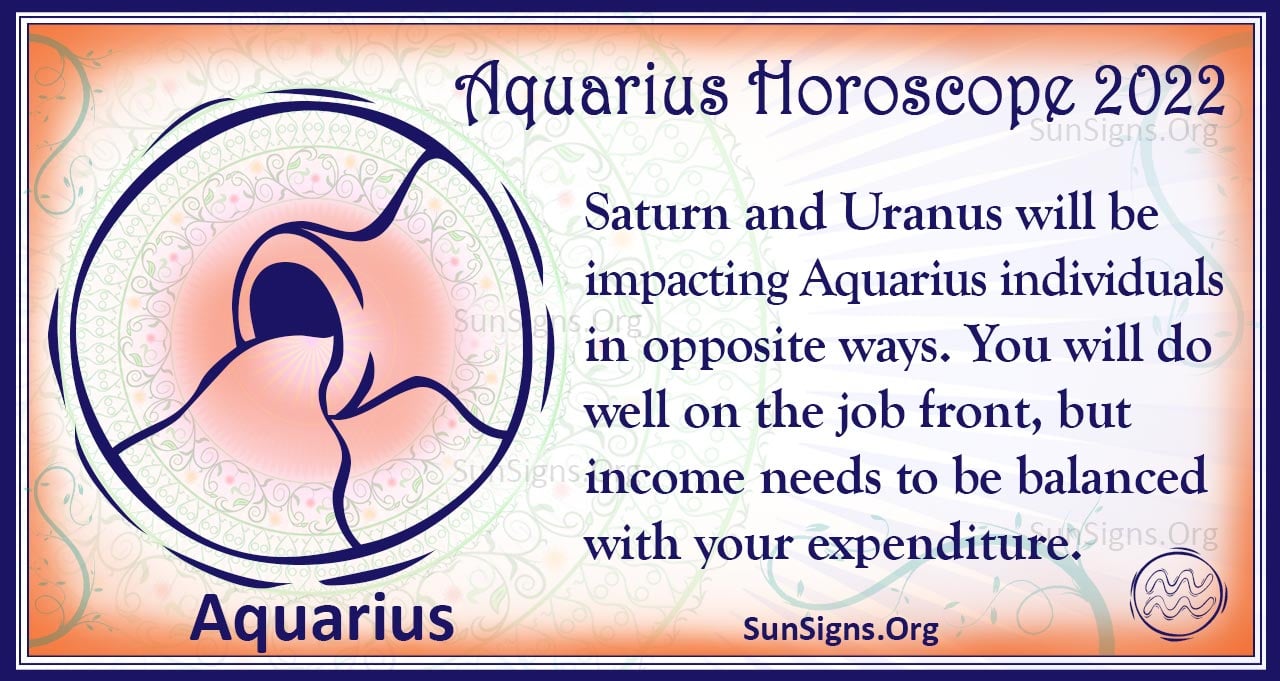 Aquarius Health Horoscope 2022.
The beginning of the year is associated with weakening of the immune system. Exacerbation of diseases is possible. The Aquarius horoscope for 2022 recommends paying increased attention to the state of the nervous system.
Overwork and vigorous activity can affect its condition. Avoid stress, try to sleep better, review your diet in favor of vitamin-rich foods.
In March, the risk of industrial and domestic injuries is high. Therefore, it is better to refrain from extreme types of recreation, as well as dosing physical activity.
The nervous system needs a regular reboot, so Aquarius must find a few days to rest from time to time.
The Aquarius horoscope for 2022 warns that his tendency to gluttony can do him bad service. The love of junk food and alcohol abuse can lead to problems with the gastrointestinal tract.
Aquarius Horoscope 2022 by the Year of Birth.
Horoscope 2022 Aquarius Tiger
Aquarius-Tigers are waiting for big changes in relations with the opposite sex. Someone will legalize their relations, and a stork will knock on someone. Horoscope 2022 Aquarius promises the sign increased attention not only from the opposite sex. He will be welcome in any company, and you can also find a new interesting activity.
Horoscope for 2022 Aquarius Rat
The year is good for independent swimming. If Aquarius, born in the year of the Rat, plans to start a business, the period is most suitable for this. Even if you are experiencing funds shortage, the main thing is to start. The stars will support any business idea. If your business does not seem attractive, the horoscope suggests focusing on work.
Horoscope 2022 Aquarius Ox
The motto for Aquarius-Ox will be careful planning. Without it, it is difficult for them to keep up with the collapsed flurry of work. The management will value and reward proactive topics and initiative. Personal life will be no less stormy, so the sign needs to use its time rationally so as not to miss something important.
Horoscope 2022 Aquarius Monkey
Aquarius-Monkey will be successful in any real estate matters. Maybe it will be an unexpected legacy, or the sign representative will plan the move himself. The stars do not predict radical changes in relations with the opposite sex, but the composition of the family can still change, replenished with a pet.
Horoscope 2022 Aquarius Rabbit
The planets promise a successful period. Aquarius can take on any business, he can handle everything. Changes in the workplace are possible. The sign can expect career advancement or a change of activity. The more you plan, the more goals you can achieve. Good luck will not leave until the end of the year.
Horoscope 2022 Aquarius Dragon
The first months of the year will be quite stressful, but the Dragon can lay the foundation for future success and reap the fruits of his labors for the remaining months. The stars recommend that he pay more attention to health. It's time to start exercising or at least move more.
Horoscope 2022 Aquarius Goat
The horoscope warns that adventurism can bring success. Sensitive intuition helps in making decisions. In work, success is waiting for this zodiac sign, but in his personal life there are no prospects yet. June will be especially unpromising.
Horoscope 2022 Aquarius Snake
Representatives of the sign will discover a lot of interesting things. It can be an unexpected and original hobby or an expansion of the social circle. The stars do not promise radical changes at work, but a new hobby by the end of the year may turn out to be promising in terms of money. And then the work will recede into the background.
Horoscope 2022 Aquarius Horse
You will have to deal with real estate issues. The period is favorable for improving housing conditions, and in 2022 the sign representative can move to a new apartment or start building their own house. Changes are also possible in the work area, the merits of the Aquarius-Horse will be appreciated by the management.
Horoscope 2022 Aquarius Dog
The stars offer the Dog to paint life with bright colors. This is what he can handle. Do not be offended by people and painfully experience their assessments. It is better to work on your image and consolidate your self-confidence. Having found harmony, the sign will solve all difficulties in the work and personal spheres.
Horoscope 2022 Aquarius Pig
The stars promise the Pig a pleasant change. They will affect personal life and the work sphere. But to get a specific result, the horoscope recommends focusing this year and setting specific goals for yourself. Concentration of efforts will help implement your plans. Relying on this is worth it.
Horoscope 2022 Aquarius Rooster
The stars offer to tighten up. By the end of spring, it is worth completing projects started previously. For successful communication, you can think about changing the image. The Aquarius Rooster needs to deal with the inner world and find harmony with himself. Then he will learn to easily find mutual understanding with people.