Blind Dream Meaning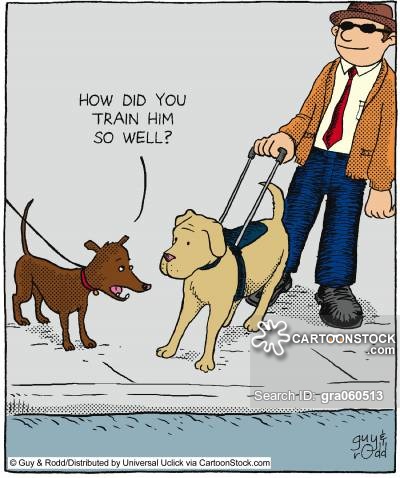 If you saw someone blind in a dream, this is a warning about mistakes, failures, disappointments, the need to exercise caution. There are other meanings of such a symbol in a dream: someone's request for help, winning, new friends.
Seeing a blind man in a dream is a warning of making annoying mistakes. Blind woman - possible deception of feelings, you need to try to avoid it. The blind deadman means the dreamer will have some trials, losses.
Being blind yourself is a symbol of excessive gullibility. To see another person blind, if it was a man or a boy, shows that the distrustfulness of a dreamer brings him harm. Seeing the light after blindness in a dream means to understand your mistake.
Dreaming of blindness often means: the dreamer does not know or does not want to know the truth. The dream also indicates some spiritual limitations.
To see a small blind kitten or puppy means a number of serious troubles, perhaps you will bring yourself harm by careless actions or words. Kittens personifies deceitful external shine.
The blind baby seen in a dream signals about the unworthy thoughts of the dreamer, evil, aggressive emotions, destroying the inner harmony.
A blind old man foreshadows failure in the business field and the inability to change anything. It is necessary to bring something fresh into life, to resist the depressive mood.
According to Vanga's dreambook, the dream of one's own blindness indicates: relatives or co-workers are fooling the dreamer. He does not even notice how his secrets are used against him.
Helping the blind person in a dream means you will be deceived. If you went blind in one eye, this means the trouble is imminent, which cannot be prevented. There will be business failures that will affect the material well-being of the family.
Feeling your blindness in a dream means you will meet new people who will become your true friends.
An Islamic dreambook gives the following interpretation of the dream of blindness: it is a symbol of delusion in religion. For the poor, such an image can mean real wealth acquisition.
A dream of blind cat means: your ill-wishers (cunning, deceitful people who personify this image) will temporarily lose their vigilance, therefore they will not be able to harm you.
A girl's dream of a blind loved one is a reflection of her anxiety about their relationship, fear of breaking up with him.
A dream of blind rain is a symbol of possible lottery winning.