Pawnshop Dream Meaning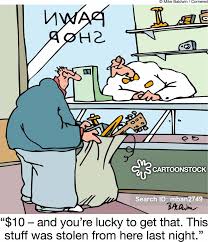 A pawnshop is not the most positive image in a dream. It warns of significant losses (and not always material ones) and serious setbacks. Dream Interpretations will explain in detail why this institution appears in a dream.
Did you have a dream that you came to a pawnshop? Miller's dream book predicts disappointment and losses. Mortgaging your personal belongings in a dream predicts an unpleasant conversation with a loved one.
Going to a pawnshop in a dream literally means doing a stupid and reckless act. Even if you happened to see the pawnshop only from the outside, be prepared for the fact that the current chores will certainly be replaced by even greater problems.
Sometimes this is a direct allusion to a dangerous situation and inability to resolve it. You may have to sacrifice your personal interests. Especially if the pawn shop was closed in a dream.
But if you dreamed that the doors of the pawnshop were open on the night of Monday or Thursday, this means you will go to a friendly party.
If you had a dream about how you had to pawn some things in a pawnshop, this means they will brazenly deceive you and even try to rob you in the near future.
If you happened to see that they do not want to take junk you brought in a dream, this image means you will have to explain with your spouse about excessive and unnecessary spending.
Did you have a dream that you turned to a pawnshop secretly from everyone? In reality, you will find yourself in an awkward position because you will literally be caught by the hand in some kind of offense.
For a more complete interpretation, it is recommended to remember what exactly you brought to the pawnshop in a dream:
Clothes, interior items – this means the need of sacrifice;
Old books – you will save yourself from danger;
Antiques – your well-being depends on luck;
Silver – separation from a loved one;
Jewelry – means real lack of money;
Technical equipment – means a rash decision.
Seeing that you are being given too little cash for your good is bad. In reality, you will really get less than you bargained for.
Did you try to pawn gold in a dream? Alas, through your own stupidity, you will lose real happiness or miss a great chance. Gold itself is sometimes a symbol of memories. Knowing this, Loff's dream book offers another interpretation of a dream. You will voluntarily get rid of thoughts that regularly return you to the past and interfere with full life.
Did you happen to hand over a ring to a pawnshop in a dream? Medea's dream book considers this a bad omen. In reality, you will break a promise or even an oath, and for this you will be punished by fate with a serious trial.
It is bad for lovers or family dreamers to pawn the ring voluntarily. This is a sign of worsening amorous and marital relations. And most likely it will happen through your own fault.
Have you dreamed of a pawnshop in which you buy back what you previously pawned? This means you will succumb to temptation and fall into a bad story, which will result in losses.
Did you have a dream that you cannot redeem something due to lack of money? Get ready for failure. Buying someone else's items means that a dubious investment will not bring the promised profit.
If in reality you are really having a hard time with finances, then the same plot in a dream marks the end of difficulties.