Baby Stroller Dream Meaning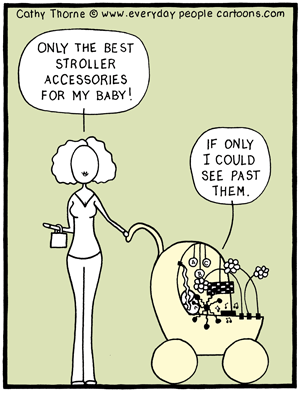 Pregnant women, especially those who have the first baby and who are overwhelmed with new sensations about this often dream about children's things. This is the result of the daily work of the brain, which thinks about the future child.
There is also a chance to see a baby carriage in a dream after you have learned that your acquaintances, relatives or friends are expecting a child, or have just given birth to a baby. A stroller can also be seen in a dream by women who really want a child, and even girls who dream of marriage and a happy family. Such a dream, according to many dream books, can predict marriage.
Miller's dreambook convinces us that a baby carriage in a dream tells us that one very close friend is preparing a surprise for you.
An empty baby carriage in a dream, in accordance with the Moon Dreambook, will bring you trouble and a series of small problems and failures. If, on the contrary, it is completely full of things, it is a sign of success in business or career growth. A beautiful, properly working baby carriage in a dream indicates that the path chosen by you is correct, success is already waiting for you, but the path to it will not be smooth.
If the stroller was old, you had to fix it or it was impossible to use it, get ready for difficulties and try to pay more attention to your plans. However, you should not be very negative: all the troubles and ado will pass quickly.
According to many dream books, a smiling beautiful baby in a stroller will bring you good luck and happiness in the family. A strong, healthy baby means the absence of disease. To swing a child in a pram in a dream is a good sign. For an unmarried girl, a joyful child in a pram in a dream is a prediction of a coming meeting with a loved one, which will end with a wedding.
If a baby from your dream cries in a stroller, you will be in for a lot of trouble that last longer than you expect.
Another interpretation of a dream about baby stroller is the coming christening of the newborn to which you will be invited.