Crooked Teeth Dream Meaning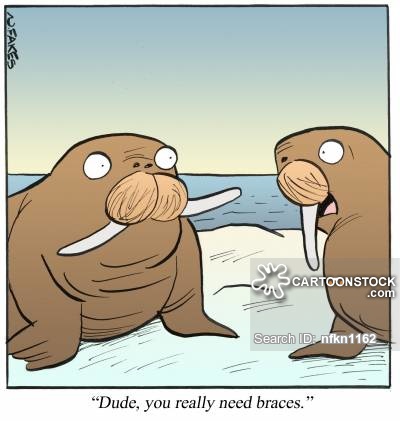 Dream Interpretation warns that crooked teeth are one of the most disturbing signs that one sees in a dream. Explanations of what the image means in a dream, in most cases, contain warnings. What the dreamer is most interested in is now in danger.
Miller's dreambook believes that the negative interpretation of crooked teeth in a dream can touch any of the vital areas. There is a high probability of losing health, well-being, and personal goals out of the blue.
If you happen to see your unattractive smile after a visit to the dentist, this is a warning that an unfamiliar person who inspires confidence only at first sight will be the source of the trouble.
Hasse's dream interpretation states that the symbol is addressed by the subconscious to the most significant area for the dreamer and shows that everything will go awry. It makes sense to postpone or take all precautions if you are planning such responsible actions as surgery, a big deal, a trip to uncharted lands or a first date.
The Wanderer's dreambook explains what dreams of crooked teeth combined with other defects mean. To dream of signs of caries or periodontal disease happens shortly before an unexpected deterioration of health, not necessarily related to dentistry. Not only one who is asleep, but also one of his relatives may get sick.
Bleeding gums foreshadow separation forever from one of the blood relatives, the cause of which may be death or irreconcilable hostility. If the crooked teeth crumble or fall out in a dream, there will be an unsuccessful and categorical end of the case in reality.
The interpretation of crooked teeth in the Eastern dreambook is related to bankruptcy due to short-sightedness. One of the pitfalls are impulsive purchases.
If you see artificial crooked teeth in a dream, this symbol means delusion and deliberate deception. The dreamer risks becoming a victim of fraud.
The dreambooks give short interpretations of plots related to bad smile:
If you dreamed of crooked teeth, try to avoid domestic conflicts;
Ugly smile in a dream sometimes indicates an impending disease;
The twisted grin foreshadows difficulties in love and family relationships;
If you dreamed of a deformed dentition, beware of business mistakes;
If you are lucky enough to see your jaw straightening, troubles will be avoided.
The dreambooks associate hygienic mouth procedures with cleaning your place before guests' visit. If it was a plot about crooked teeth, a specific visit is expected. Guests will arrive with a request to take on their problems or will create them out of the blue with their ugly behavior.
Brushing crooked fangs in a dream means that a number of urgent tasks may suddenly appear at work, the solution of which will take all your energy.
If you dreamed of getting rid of unwanted crookedness, you will be able to solve some problem yourself in reality. When someone assisted you in a dream, support will come from outside.