Guitar Dream Meaning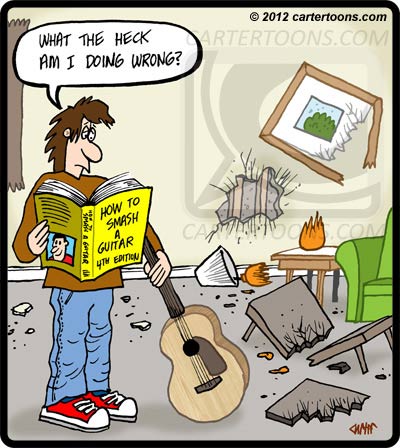 The explanation of why the guitar is seen in a dream can be both positive and negative. For example, if you extracted melodic beautiful sounds from this instrument in a dream, then you should expect pleasant news in reality. The dream book warns that news will come from afar.
Miller's dream interpretation believes that holding a guitar in your hands and playing some melody on it is a favorable sign. The dreamed plot promises communication with interesting people. It is possible that your future second half will be among your new acquaintances, relations with whom will be extremely serious and real.
Miller's dream interpretation believes that a dreaming of a guitar with torn strings means that a happy relationship with a chosen one will suddenly turn into bitter experiences and tears.
If a girl heard someone playing a guitar in a dream, this means that a mercenary person would be able to deceive her with the help of flattery and false conversations. The dream indicates that communication with such a person will be very dangerous and will bring a large amount of mental suffering. Perhaps even the development of depression.
If the guy dreamed of this, then he should abandon the frivolous hobby. Such relationships are fraught only with empty troubles and nothing more. Another version of the explanation of t the guitar for a representative of the stronger sex is the period of ideal relationships with relatives.
The Summer interpreter is convinced that if a guy dreams that he plays the guitar, then he should stop communicating with the eccentric and frivolous girl. Such relationship will not result in anything good.
If you dreamed that you played a broken guitar, in this case a series of unplanned events will unsettle you for a long time. For a girl who saw a dream, the Modern Dream Book promises emotional distress and suffering.
If the guitar you saw in a dream was without strings, in reality you won't know what to do in this or that case. Do not neglect the advice of people who love you. Their support will help you make the right decision, which will positively affect your whole life.
If you dream of a bass guitar, get ready to have fun in a noisy company. If the instrument was broken in a dream, then the events that took place at this party will seriously ruin your reputation. A Modern dream book recommends taking care of the consequences in advance and not abusing alcohol.
The Female dream book is convinced that if a girl saw a guitar in her nightly dreams, her relationship with her lover would give a crack. The reason, most likely, will be the appearance of an attractive and sexual girlfriend at her partner.
In a similar way, a broken guitar dreams are also explained. The dreambooks also associate a broken musical instrument in a dream with health problems that threaten you in reality. Do not wait when you have to resort to a long and expensive treatment. Respond properly even to small bells that signal a malfunction in the body.
If in a dream you played the old guitar without strings, then in reality you will have to endure a great tragedy.
If you dreamed of an untuned electric guitar, you will not be able to avoid conflict situations, despite your desperate attempts to do this. But if this instrument made sharp and unpleasant sounds - you will find yourself in the midst of a scandal.