Blue Dress Dream Meaning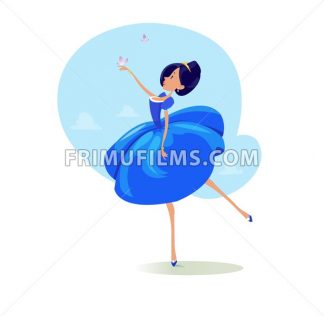 The first thing dream book advises to find out what plots about the dress itself mean. The beautiful, perfectly fitting model symbolizes a good and peaceful life. Everyone loves the owner of this outfit and admires her kindness, charm and tenderness.
In this regard, the blue color is a reflection of spiritual purity and deep spirituality. To see yourself in an elegant luxurious dress of the color of sky in a dream is a promise of quiet life.
At the same time, trying on a blue dress according to the interpretation of the dream book carries some negative. Apparently you will have a rival in the affairs of love. However, if the outfit turns out to fit you perfectly, then you should not worry about it.
But if the dress was small, large or not beautiful enough, then the dream book considers this to be a sign of internal dissatisfaction and certain obstacles in reality.
All dreams about blue color are related to the spiritual side of life and personifies knowledge, intellect, peace, wish fulfillment and stability. At the same time, it is the image that symbolizes man's need for love and rest.
For example, if you work a lot and dreamed of a short blue dress, then obviously it's time for you to relax. And a long dress in a dream hints that everything is more than good in your life at this stage.
If a man dreamed of a lady in a blue dress, this means that acquaintance with a very refined person is waiting for him soon.
The dreamer's actions also play an important role in plot interpretation. Just to see a new blue dress in a dream is a symbol of good changes; to try it predicts appearance of minor difficulties; to buy a long dress is a symbol of well-being. To see a beautiful "heavenly" outfit on a child - in the opinion of the dreambook, means hope for a better future and getting a large income.
Sewing a blue outfit yourself means that you will probably have a very difficult work of the spiritual kind, self-analysis and self-improvement. For this you will be rewarded with important knowledge.
Sewing an original model in an atelier predicts pleasant meetings and luck. If you bought a blue dress or received it as a gift, this plot promises the end of a conflict.
Seeing yourself in a luxurious blue-colored wedding dress promises an acquaintance that will certainly end in marriage for a young girl.
In addition, a wedding dress in a dream promises a new life stage, important, but certainly favorable changes, good acquaintances, the implementation of plans and spiritual growth.