Scuba Dream Meaning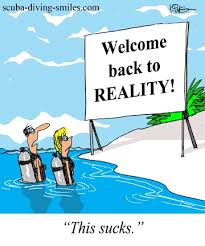 Seeing dreams about one of the most unusual and interesting inventions that let us travel under the water for a while, predict easy overcoming of the problems or secret revealing.
According to Miller, scuba diving warns you about problems at work and being in boss's disfavor. If a young girl sees such a dream it is a prediction of possible infertility or unhappy marriage. A dream about scuba equipment symbolizes an unpleasant refusal in a request that is very important for you. Maybe the deal is not about the person you asked for help, but about you; no one likes recklessness and disorganization.
Suffocating in a scuba under water is a warning that you will have a sudden bad luck in a venture that seemed very profitable. Try not to panic otherwise all your ideas will fail. Some dreambooks predict getting joyful news, getting rid of worries if you were diving in scuba equipment in your dream. Taking off the equipment is a symbol of quarrels with your partner. Diving with a mask to get a coral or pearl is a reflection of subconscious desire to please your partner. In intimate sphere dreams about scuba can symbolize the dreamer's wish to have new sexual emotions and feelings.
Swimming with scuba in a storm in your dream tells about your growing nervous tension that can soon burst on others. The dreambooks warn that you may fail a perspective deal because of your emotions. The night plot about scuba can also reflect that you are being confused about your feelings and thoughts.
Diving in muddy water predicts a rapid change of obstacles. Scuba diving in dirty water indicates useless efforts to improve your financial position. Scuba diving with fish in a dream indicates the dreamer's attempts to join someone else's business. Watching the coral reefs symbolizes a chance to visit interesting unusual places.
Diving with scuba with a man means you will have strong emotional connection with this person in real life. If this plot is seen by a man, the dream indicates having new rivals who can become his business partners later. A scuba on the sand tells you about unfavorable financial times; it is better to wait a little and not start new ventures now.