Husband Dream Meaning
Dream interpretation claims that the ex-husband comes to your dream for a reason: either you cling too much to the past, or everything is not very cloudless in the present. The dream reminds that the past may turn out to be ballast, which not only interferes with moving further, but also does not favor current relationships; quarrels and alienation in the family are possible.
The dreambooks warn that cheating of your husband in a dream will most likely not affect matters of the heart; however, the dream foreshadows disappointments, deceived hopes and insignificant losses of material values.
If you have a dream that your husband is cheating on you, the dreambook advises you to interpret it exactly the opposite: you can have no doubt that your spouse is faithful. The dream interpretation of Simon Canaanite is much more optimistic, promising a quick solution to an issue that does not give you peace of mind at the moment.
If the late husband was seen in a dream, there is nothing wrong with that: the dead often visit their loved ones in a dream. The only plot that has a bad meaning is when the deceased calls you with him or tries to lead you somewhere.
If it is not the first time when your husband's lover bursts into your dream, the interpreters rightly assumes that there is a lot of untold between you. It often seems to you that your spouse avoids slippery topics; as a result there is excessive suspicion.
In most cases, the dream about husband leaving you is provoked by your fear of loneliness and loss. Dream Interpretation calls not to attach too much importance to such dreams. This dream shows that you are afraid of coming changes.
Dreambooks warn that a drunken husband is a symbol of trouble, which, unfortunately, will not pass by the family or the spouse may soon get sick.
Kissing with your husband in a dream symbolizes the beginning of an unfavorable period in one of the main areas of life. The dream is the forerunner of family troubles, internal discomfort, and trouble from outside. Such a romantic dream foreshadows disappointment in the spouse or a forced long separation.
A dream about your husband hugging you is nothing more than a projection of real events. It may also indicate that you lack embraces and other displays of care and tenderness in reality a little.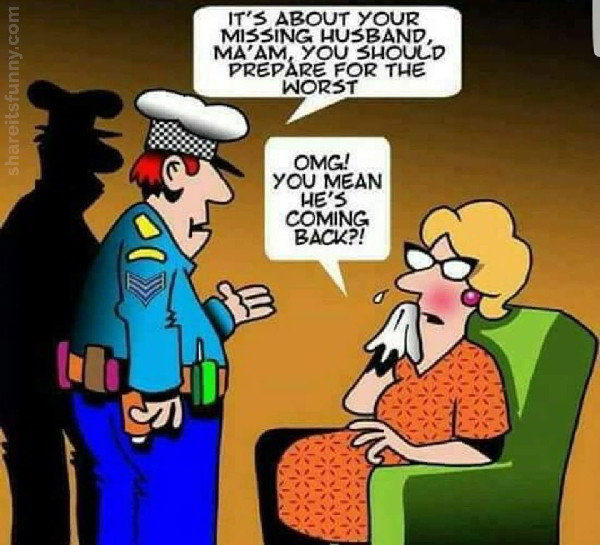 Dreams in which you had sex with your husband, the interpreters unanimously consider not the most favorable: they promise losses and difficulties associated with money.
If you saw in a dream that your husband is naked, it means that he may be embarrassed, get into an absurd or awkward situation in the near future.
A dream about fighting with your husband and beating him is a reflection of your inner family conflict.
If you happened to get married in a dream, this image does not at all promise that something similar will happen in reality. Dream foreshadows efforts and new commitments that may prove to be a burden to you.
The dream in which you saw the death of your husband promises that big changes will soon happen in your life. Whether they are positive or not you can judge by the mood dominating in the dream. The dream may also indicate a serious disappointment in your marriage.
When you dream that your husband is dead, it's time to think about whether you are too dependent on him. Thus, the dream tries to remind that there are other aspects of life, calls not to be afraid of changes. At the same time, the dreambook says that in reality your spouse will have a long life.
If your husband's ex-wife was seen in a dream, this image suggests that the past does not let you go, not him. Such a dream may indicate hidden resentment and dissatisfaction with family life, in which you do not want to confess even to yourself.
To marry your husband in a dream is enjoyed by those who lack romance in everyday life. A dream can be inspired by both memories and dreams of new love.
If you are currently in active search of a partner and saw your friend's husband in a dream, the plot just gives you a hint of the possible options of an interesting person.
If your ex-husband came back to you in a dream, the interpreters recommend getting ready for the new romance. In rare cases, your ex may indeed return, but under one condition: if during his absence he managed to become a different person.
If you had to quarrel with your husband in a dream, it means that in reality you will soon establish harmonious relations. The dream in which you listened to unjust accusations indicates that he has the warmest feelings for you, appreciates and respects you very much.
If you dreamed about husband's sister, you should take this plot as a reminder to inquire how she is doing, she will be glad if you pay attention to her.
As for dreams about someone else's husband, if you are really married, the interpreters directly indicates that your relationship came to dead end, you feel alone in the family. As for unmarried lady, the plot warns that her wish fulfillment is being postponed.
If you dreamed of a pregnant husband, wait for the replenishment of the family. But in a dream, as always, everything is messed up: in reality you will have a child, of course, and not your spouse. Pay attention to the mood that remained after sleep: the more positive it is, the better.
If you dreamed that your husband who is alive was killed, the dreambook promises a quick solution to his main problem: recovery, return of debt, peaceful end of the conflict. And if your spouse is really deceased, the image should be regarded as a sign that the time of grief has passed and life goes on, despite all adversity.
A new husband can be seen by an unmarried young woman as a warning about hasty and not very successful marriage. As for a married woman, the dream suggests that she also has not everything going smoothly in family relationships, and she secretly thinks about an affair.
A dream about your husband crying indicates that the black stripe that haunts your family is nearing its successful end.
A dream about divorce with your husband is a sign of a minor conflict that is easy to solve. At the same time, the dream reminds that the husband does not have enough vivid impressions, which you probably know.
If you dreamed of a husband in bed, the dream says that now it is time for him to rest, and for you - to act. You should not take old path, only new ideas will help.
A quarrel with your husband in a dream foreshadows the coming harmonization of the marital relationship.
Dreams about a husband's friend mean that a woman is so disgusted with the existing state of affairs that she is ready to go very far for change and new impressions.
When you dream that your husband abandoned you for no reason at all, this image means only the coming small confrontation that will end in a stormy reconciliation.
If you dream of a sick husband, anyone from your environment can get sick soon, but not him. At the same time, such a dream may be a precursor of family troubles, try to prevent them.
Cheating on your husband in a dream says nothing else, as a latent readiness to do something like this in reality.